>> $5K FREELANCE WRITING IS RELAUNCHING IN 2022! CLICK HERE FOR EARLY ACCESS <<
$5K Freelance Writing: Add $5K+ to your monthly income with a low-stress, location-free freelance writing career.
[The beta has ended, but this transformative program is officially launching in 2022! Click the link above and be among the first to gain access with exclusive early-bird discounts!]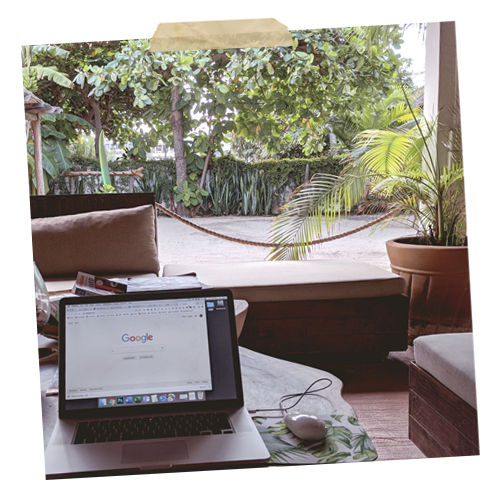 What is $5K Freelance Writing? 
a brand new online course designed to help you launch and grow a long-term, low-stress freelance writing career that's location-free & powerfully profitable.
It's a guided 6-module program that's the key to moving from confused and underpaid to confident and cashing in on work you love.
It's the secret to becoming a chilled-out, loving-life kind of writer who works from the coffee shop, the couch, or Cabo. Whatever fits your vision. 🌴
Here are just some of the things you'll learn:
☕️ How to quickly be seen as a freelance writing expert, making your competition irrelevant (even if you're just getting started)
☕️ How to find a freelance writing niche that's perfect for you (and powerfully profitable)
☕️ How to find high-paying businesses, brands, and clients who fit your business vision
☕️ How to make clients extremely happy so you lock in that repeat long-term work (and the ultimate secret to banishing feast-or-famine mode)
☕️ How to write emails and proposals that result in reliable $$$ (instead of the tragic sound of crickets in your inbox)
☕️ How to set up your freelance writing business for long-term success (including rates, policies, and the other tricky stuff you've been fretting over)
☕️ How to find inspiring opportunities that are premium quality (no more content mill hustling!)
☕️ All the BEST modern ways to market yourself independently, so you're not at the mercy of 3rd party websites or job boards
With the right strategy and a strong foundation, it is 100% possible to become a respected, established, expert copywriter or content writer, fast.
One who chooses their own clients, works at their own pace and greets the day with gratitude instead of pre-commute grumbling.
And whether you're a frustrated beginner or you've burnt out from being at this for a while, that same abundant, exciting, refreshing outcome you want is waiting for you.
I designed this program after a decade of freelance writing mistakes and experiments taught me exactly what I should—and shouldn't—be doing to keep cash flow high and stress levels low.
See, quality of life is everything to me.
Traveling, working from wherever I want, designing my own days, and focusing on self-care are the payoffs I care about.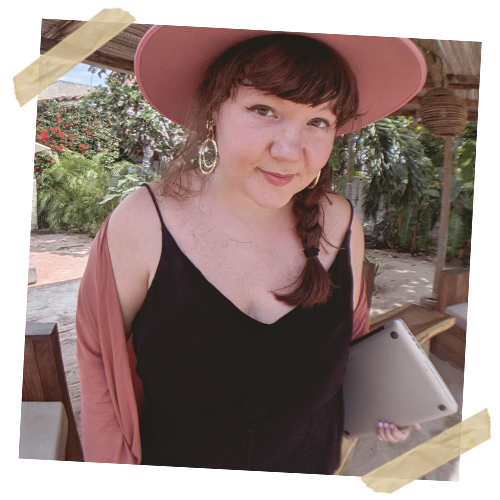 I'm talking about that high-vibe, oozing with gratitude kind of life that feels out of reach right now. ✨✨
Freelance writing has been my greatest teacher and muse in creating a life I'm excited about—one that feels creative, lush, and full of possibility.
That's what I want for you!
Not just to pay the rent… but to pay the group's bill at dinner, pay off your debt, pay for plane tickets for that trip you've always wanted, pay for upgrades that make your life easier, pay for the health and wellness tools you need…
It's not about some Instagram-post-worthy claim to fame that you make X amount per month.
This is about waking up each day and breathing a literal sigh of relief that you have a self-directed, independent career that fills you with confidence and frees you from the 9-5 grind.
So this course won't be a hustle-and-grind, write-till-you-drop boot camp.
(Ew, honestly.)
Instead, we're going to get to the root of why your current frantic, low-vibe strategies are leaving you frustrated, broke, and disenchanted. ❌
Then we'll unscrew all of that mess and hand you the strategies that actually work. ✔️
I'm talking about the time-tested, repeatedly successful stuff I use every day to get new writing clients (who happily pay my premium rates), keep existing clients extremely happy (locking in that long-term, repeat work), and exponentially grow my income without stressing out.
If you're tired of stressing through feast-or-famine mode, sending out proposals (and hearing crickets), or losing confidence that you can actually make this happen, I hope you'll join us.
If you're ready to learn how to launch and grow a feast-or-famine-immune freelance writing career that's 100% online and adds $5k+ to your monthly income…
If you're ready to embrace the high-vibe, joyful, low-stress life right now (not 5 years from now!) and actually ENJOY building your career with a group of other dedicated, passionate writers…
If you're officially done playing small and open to the level 10 freelancer and expert you know you can be… click below.
>> $5K FREELANCE WRITING IS RELAUNCHING IN 2022! CLICK HERE FOR EARLY ACCESS <<